Special for our teacher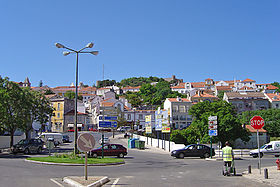 Santiago do Cacém is a Portuguese city in the District of Setúbal, Alentejo region and Alentejo Litoral sub-region, with a resident population of 6 403 inhabitants (2015 INE). Its name derives from Governor Mouro Kassim and from the Order of Santiago.
It is home to one of the largest municipalities in Portugal, with 1 059.77 km² of area and 29 749 inhabitants (2015 INE), subdivided into 8 parishes. The municipality is limited to the north by the term of Grândola, to the northeast by Ferreira do Alentejo, to the east by Aljustrel, to the south by Ourique and Odemira and to the west by Sines and has coastline in the Atlantic Ocean. It is the only municipality in the whole Alentejo that contains 2 cities within its territory (Santiago and Santo André). It also has three villages (Cercal, Alvalade and Ermidas-Sado).